Yup, we're at it again! Sunday, Nov.25th at 2:30pm we'll be meeting at the 'usual' spot at the entrance of the Campbell Mt. Service Rd., just off Greyback Mt. FSR. BYOB - lets dig some beauty new trails!

Andrew


I'll be there. Hopefully we can be as productive as last weekend.

Gary



Posts

: 84


Join date

: 2009-07-04



I plan to go for a few laps before hand if anybody's interested?



Posts

: 102


Join date

: 2011-06-23


Location

: Penticton- Skaha Lake



Let me know if there is anything i can do before or after.
I can't make it due to "American Thanksgiving/Stuff my face with Turkey/Grey Cup Day Family Dinner".

The Toonie Series can donate burgers and barbeque if required for tomorrows trail day?



Posts

: 663


Join date

: 2010-03-03


Location

: Here



I'm fueled by cow .. just throwing that out there (but I may be intoxicated by turkey and bacon already)



Posts

: 218


Join date

: 2009-06-21


Age

: 39


Location

: Penticton



And with that - it was done!
The new Campbell Mt. backside trail, IE; the ongoing project involving a way to avoid riding on the road around Campbell Mt. - is complete!
HUGE Kudos to the crew that came out to wrap up the trail this afternoon. We had a mix of new and old faces on site, including Gary & Terrie, Brent & Ginger (the girls
once again
proving to me that gals do in fact build trails
!
), Curt, Gary Mc'B., Andrew Dingwall, David Brooke, Michelle and myself (if I've forgotten anyone, accept my apologies).
With this many helping hands, light work was made of serious digging! We managed to not only open up the new backside section of the mountain loop known as 'Campbell Classic', but also completed some reno' work on the trail's midsection, a segment that we call Crop Circles. Its all good now – get out there and enjoy it before the snow comes and hides it until spring!
Finally, in case they read these missives or word otherwise gets back to them; MEGGA' THANKS and appreciation to Mike Street and the Sather family for giving us the green light to build new trails on their property.
It's land owners / land-managers like them that allow these kind of legit' additions and enhancements of valley singletrack!
!Respect!__________________________________________________________________Andrew Dingwall, enjoying a brew and checking out the Crop Circles enhancements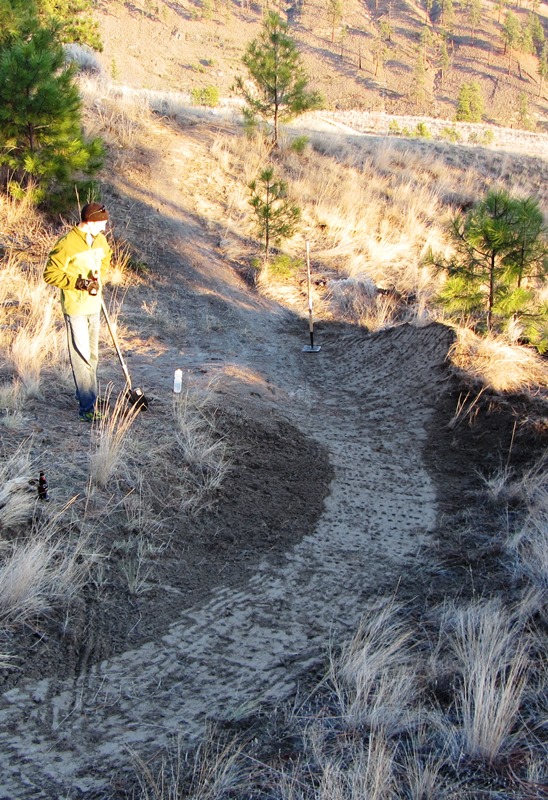 A.


Similar topics
---
Permissions in this forum:
You
cannot
reply to topics in this forum